Sonic Walkabout #2!
AN INTRODUCTORY WORKSHOP TO SOUND THERAPY
Saturday 20th October
Birmingham Buddhist Centre
11am-4pm
£75
This is the second hands-on day of sonic exploration and introductory workshop into sound therapy.
You will learn and explore vocal toning and singing bowls, principles of sound healing and work with the energetic system. You will learn about singing bowl history, playing techniques and how they can be used for healing.
Participants will have the opportunity to use all the tools and instruments and learn how to use singing bowls for 1-2-1 sound massage.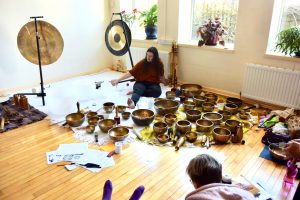 The day will end with a deeply relaxing sound bath for all taking part.
There is no need for previous experience to attend the course. This is a great workshop for anyone wanting to learn about sound healing and how they can treat friends and family. Also a good addition to massage therapists or other complimentary therapists that wish to introduce sound into their treatments.
This course is limited to 10 places.
Please get in touch if you would like more information or to book your place by emailing me at mail@edansound.co.uk